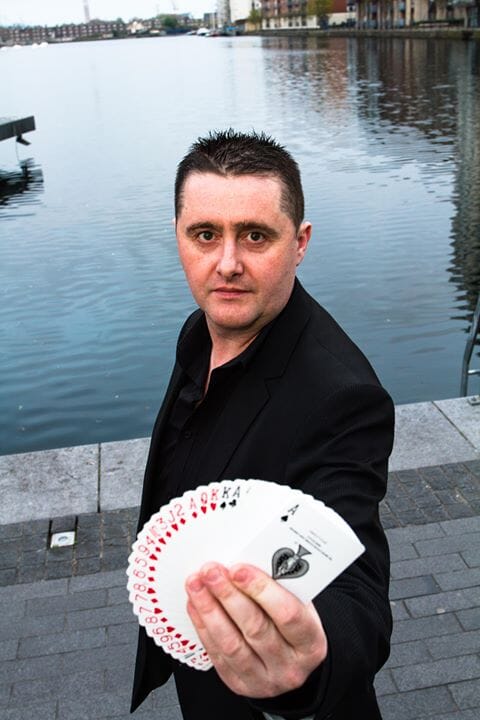 Carl Campbell is a Dublin based magician who has been performing professional close up magic for over 16yrs. Carl is a familiar face on the Corporate and wedding scene in Ireland. In the past 16 yrs Carl has gathered a wealth of performing experience performing for some well know companies such as Google , Dell , Microsoft and Bank of Ireland. Recently Carl has worked as a Magic Consultant on an RTE magic show as well as on appearing TV. Carl has worked as a magician consultant for other magicians and is also known as a creator and inventor of Original magic effects for the magic industry.
WHY BOOK CARL?
Carl really loves what his does and is passionate about magic. Booking Carl Campbell Magician can really add the wow factor to your next event or party. His laid back performance style and sharp Witt not to mention his mind blowing close up magic is enough to win your guests over and take your event to the next level. Carl can read your guests minds guessing correctly the PIN numbers of their phones and tell them the name of someone they are just thinking of. If mind reading is not your thing Carl performs fantastic card magic as this is his speciality. Everything in Carl's act is performed with plenty of humour and fun and will help build a magical atmosphere at your next event or party. Check out Carl's Videos below
Some clips from Carl's Phone
If you are interested in booking Carl for your event, please fill in the enquiry form and he will get back to you as soon as possible, usually within 24 hours.
You can also use the contact information below to get in touch with Carl for more information on how he can make your event a memorable one for you and your guests.